Sarah Ryhanen, Saipua
photography Heather Waraksa
Sarah Ryhanen's floral artistry is evocative. Her floral arrangements include kinetic, raw bouquets and spectacular centerpieces—very modern, yet with a wildness to the structure, and a timelessness to the design. Instead of domed, tightly bunched bridal bouquets, Ryhanen's work captivates brides and guests alike with rare blooms and striking, muted colors, positioned with ample height and an open architecture. Ryhanen's design aesthetic that integrates surprisingly uncommon elements—from pea pods to unripe strawberries—is partially what has helped her Brooklyn-based floral design studio, Saipua, become something of a phenomenon in the bridal floral scene, and beyond.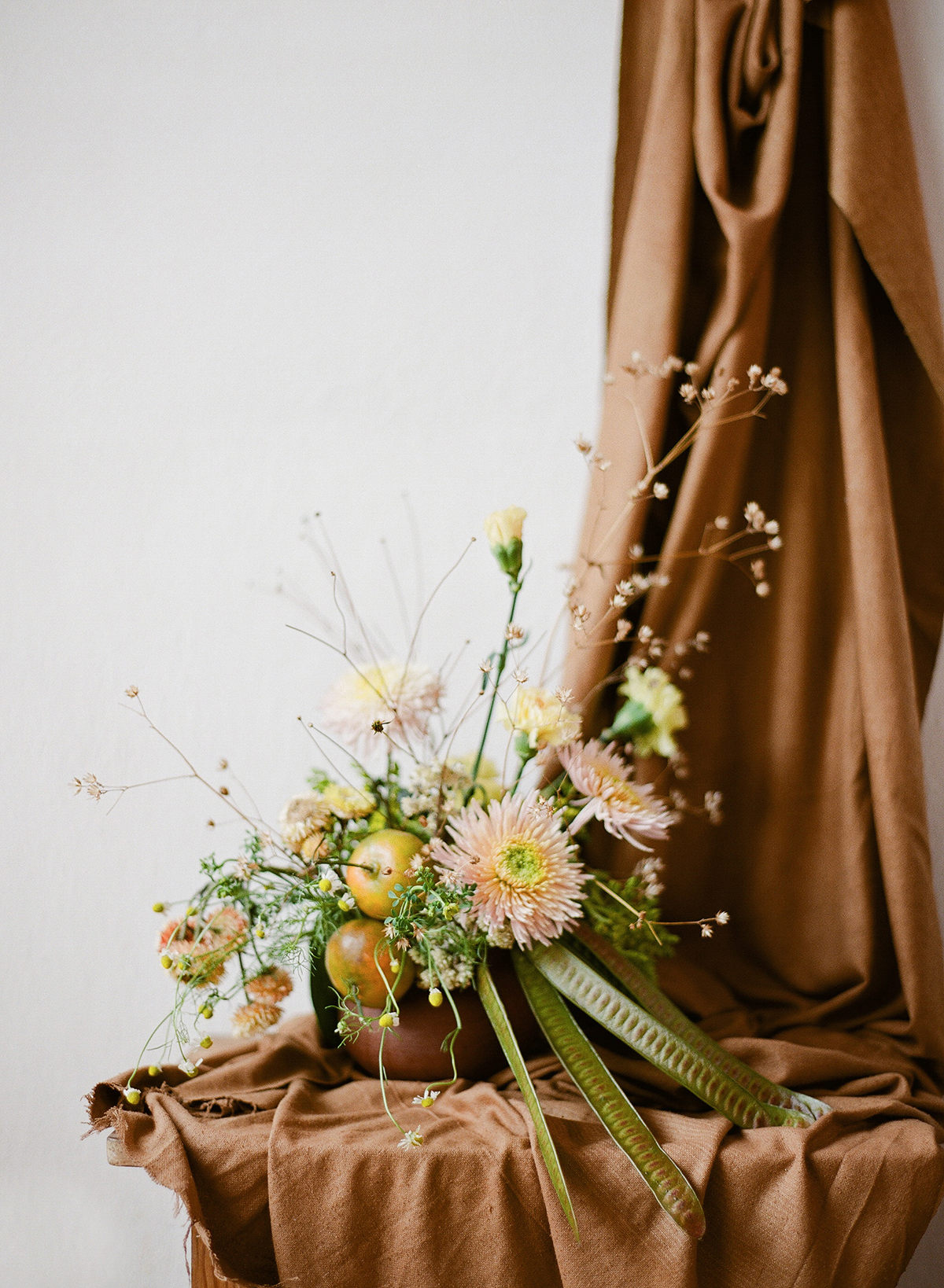 After years of improving the soil, which included the hard work of manually removing rocks for which they hosted more than a few "rock picking parties"— the farm today produces a treasure trove of unique flowers that are used both in Saipua's designs and in other floral businesses owned by their friends. In ad-dition to growing flowers, the farm runs primarily on solar power. As of 2015, Saipua hauls all of their left-over flowers—both from events and their design stu-dio—back to the farm to be composted. Waste which would otherwise end up in a landfill now gets natural-ly broken down into a nutrient-dense amendment that creates rich soil in which new flowers bloom.
Aside from flowers, the farm is home to a variety of fruits and vegetables—baby eggplants, pink currants, and lettuce—all of which have found their way into Ry-hanen's mesmerizing bouquets. One arrangement may include crabapple to columbine foliage and heirloom roses, while another includes allium (from the garlic and onion family) alongside hellebores, ranunculus, and geraniums. Judging from the pure radiance of her f loral designs and her effortless integration of natural el-ements, one would think Ryhanen was a formally trained horticulturist. In fact, while her background is in contemporary art, when it comes to f loral de-sign, she is completely self-taught. Her innate com-mand of the f loral language has elevated her status to one of the most sought after f loral designers in Brooklyn, with her work appearing in The New York Times, Vogue and Martha Stewart. She also regularly teaches other aspiring f loral designers the secrets of her style through classes on her farm and in the stu-dio, as well as through workshops held in enchanting locations across the globe.